You are beginner or little experienced?
We would like to involve you in this world of nature, adrenaline, heights, fear, body control and self confidence. The climbing could be way to fit your body and mentality, lifestyle or something new you have not yet tested. Learn the thrill of rock climbing with an emphasis on safety and skills that will allow you to enjoy the sport with confidence. The support of experienced climbing instructor will make your visit on the climbing crag pleasure.
In the process of learning we will teach you  recognition of hazards, movement on rock, belaying, knots, rope management, rappelling and use of technical gear.
Participants will climb a variety of routes to practice these skills while the guide checks all techniques for safety and provides advice and demonstrations aimed at getting all participants to a higher level in their own climbing. Depending on individual goals, a short multi-pitch may be included.
We provide all necessary gear, except climbing shoes.
Join us for individual climbing lessons  and discover your new passion.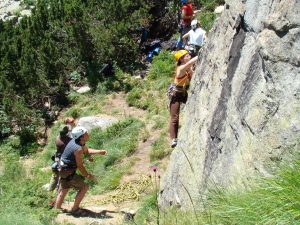 Prices per day instructions:
| | |
| --- | --- |
| 1 Person | 210 € |
| 2 Persons | 110 € p.p. |
| 3 Persons | 110 € p.p. |
| 4 Persons | 110 € p.p. |
| Maximum ratio Instructor/clients | 1:4 |
*The prices include: instructor and the necessary climbing equipment.