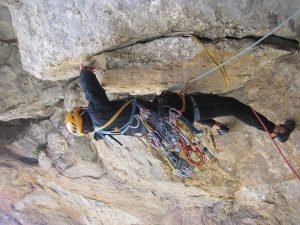 You are an experienced climber (or group of climbers) heading into Bulgaria for a climbing holiday and need a climbing guide or a partner. We are available to lead and accompany you through the beauty of Bulgaria to famous and hidden climbing crags. Thanks our service you will have translator, climbing partner and organizer during your visit. If you are not able to take all the equipment with, we will provide whatever is needed.
The easiest way to fulfil your climbing holiday in Bulgaria:
share your intentions and wishes with us
take your flight to Sofia
you will be picked up from the airport and driven to your goal
(usual rate for a group up to 4 persons is 150 €/day. That includes guiding and transportation with a car by your guide. Fuel spends are not included. If you would like to have a round trip and prefer hotels and guest houses, you have to consider accommodation of your guide.)
Just tell us, what is your goal, how long are you going to stay and we will organize it for you.