Climbing Bulgaria is a project inspired of the beauty of bulgarian nature and variety of climbing opportunities to be presented to foreign and local climbers as well as novice and no experienced keen to discover the fascination of the vertical movement.
DAMYAN PETKOV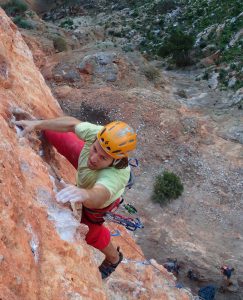 Damyan attributes his love of climbing to the way this experience has molded his character and colored his whole life.
"There's not much that will make you panic in everyday life after facing adversity on the wall and making it through…keeping your cool no matter what is key"
 He officially learned climbing back in 2007 straight on real rock, while attending an alpine climbing course in the Rila Mountain.
Today, traditional and ice climbing is what he's drawn to, despite being an avid backcountry skier and mountain biker. Maintaining a lifestyle that is simple and free of the city mundane hustle and bustle is a path to finding peace  – on the big wall, amid tiny holds, where every move feels like a prayer.
"It's like a moment of stillness, a medium to escape the constant chatter inside our head"
Damyan has climbed around the globe and has set numerous cutting-edge routes but he always returns to the place he calls home – Bulgaria.
Qualifications and training:
Climbing Instructor certificate by the Bulgarian Mountaineering and Climbing Federation
Mountain Guide certificate by the Bulgarian Association of Mountain Leaders
Advanced First Aid certification
Lifeguard certificate